Pennsylvania Marcellus Prospect Information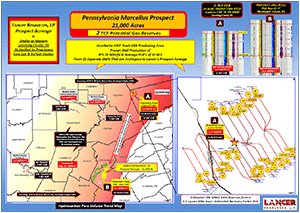 Click to View Prospect Map
The map to the right identifies the Marcellus rock and log evaluation conducted by Nutech from a well located just south of the prospect acreage, identified as point "B" on the map. This data was then correlated to another data point, identified as point "A", which contains Marcellus rock and well data on depositional strike with the prospect acreage. This data point is located within the center of 20 successful wells drilled by Anadarko, with initial rates of 20MMcfd and Avg. EUR's of 10 BCF/well.
This study proved that the Hydrocarbon Pore Volume (HCPV) within our prospect area is 6.1 ft which is higher that the HCPV of 5.7 ft within the highly productive analog Western Lycoming study area which has proven
EUR's averaging 10BCF/well
. With an initial investment of $26MM, a exploration company can control the 21,000 acre position, drill and complete two horizontal Marcellus wells and prove up the 2 TCF prospect area (see Prospect Summary below for more details).
PENNSYLVANIA MARCELLUS PROSPECT - SUMMARY
Lancer Resources, L.P. has conducted proprietary studies which verify a New High Potential, Low Risk, Exploration Area for Drilling Marcellus horizontal wells. The prospect Acreage is on strike with analogous proven productive Marcellus Shale wells with IP's of 20 MMcfd and Average EUR's of 10 BCF/well. Lancer's proprietary data with NuTech Energy Alliance and Core Labs substantiates that the prospective area contains the following key attributes for Successful Drilling:
Proprietary Core Labs Study shows Rock Properties and Gas In Place similar to producing areas that have 10 BCF EUR's
Proprietary NuTech Petrophysical Study confirms that the prospect area has Free Gas-In-Place similar to the proven Prolific Marcellus Gas Production in Western Lycoming County, PA (view map).
Good Marcellus Thickness and Thermal Maturity
Gentle Dipping Marcellus with No Faulting
Hydrocarbon Pore Volume Numbers within the Prospect Area are similar to Western Lycoming and 30% to 80% Higher than Counties located west of the prospect acreage (e.g. Center, Clearfield, Somerset Counties, PA).
Rock Properties (e.g. Clay Content) are similar to Western Lycoming which allows for Excellent Completions and High Recovery Rates. (view NuTech letter)
Lancer currently controls 21,000 acres within this prime exploration area. Our Company is seeking an exploration group that can provide excellent drilling and engineering results to successfully recover the proven Gas-In-Place. This would establish the 2 TCF gas reserves within the initial 75 square mile gas rich development area.
Click here to view the recent news on this Marcellus Shale project area.
For Additional Information Visit Contact:
Rod C. Roberts
President of Lancer Resources, L.P.
Office (512) 481-1775
Cell (512) 751-7595
Email:
rod@lancerresources.com